My initial proposal called for WAC LED downlights that took 0-10V control for dimming in order to control them with ETC Mosaic. Aesthetically I want all the recessed lights in the restaurant to be small and have a square trim.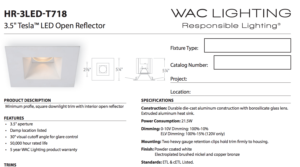 Unfortunately we need to go with something cheaper.
Instead we will be using a halo recessed light with a square trim. I chose a GU10 lamp base 3.5inch fixture and will be converting it to a GU5.3 base so that I can use a 12V MR16 LED bulb. This way I can control the bulb with the same driver as the LED tape. This will be much cheaper as it eliminates the 0-10V to DMX converter from my riser, and still allows for dimming via the LED tape drivers. 

At 1/3 of the price of the WAC lights, Im very happy with how the cheaper halo fixtures look with the 12V LED lamps installed:
There will be one fixture installed over each table. The tables that use the two long benches will move depending on the size of parties, so the recessed lights over them will be spaced evenly to accommodate different table arrangements.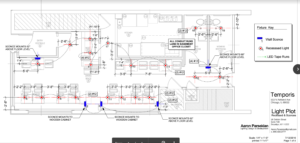 I chose narrow-flood 12V LED lamps. Their beam spread is around 25degrees, which is slightly too narrow for the tables on the two benches. To get around this I cut frost diffusion out to spread them out some more:
Here are the lamps I chose:
Since we are in Chicago, even the low voltage recessed cans need to be hard-piped together.